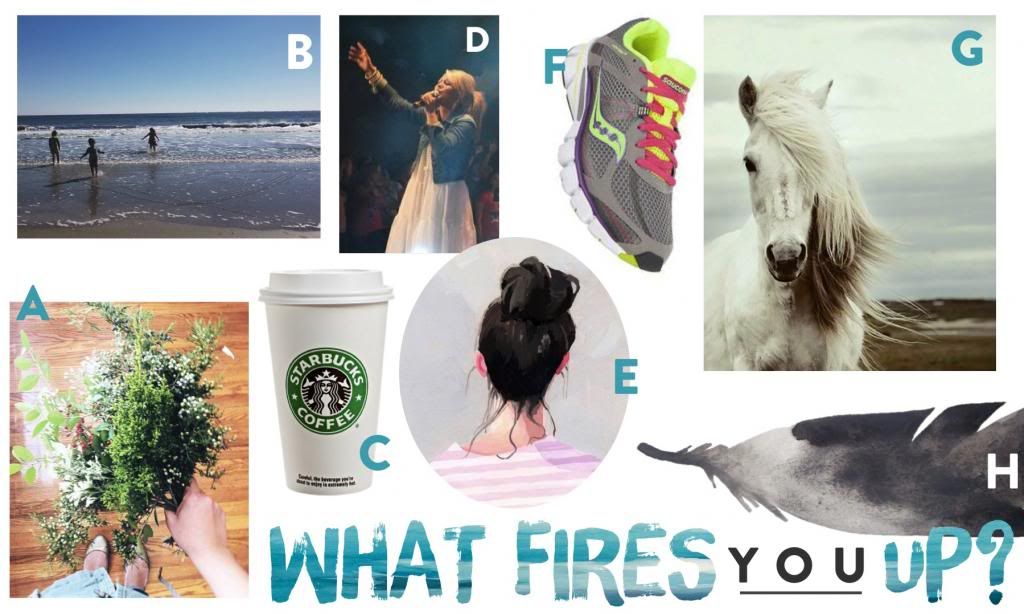 A. wild flowers or plants picked near my home B. being at the ocean with my family
I have a handful of women that I respect and love and have invited to speak into my actual blog. The idea is that occasionally I can email them and say, "I'm thinking of heading this way …" or "I had an idea for this kind of post…" and allow them to be a sounding board before I go crazy astray with what might not be a good idea. Their wisdom and availability makes me incredibly grateful for them. They make me a better blogger.
I was texting casually with Ashley this weekend about the blog and she was putting into words the exact thoughts that have been rolling around in my head for the past few weeks. She said she loves grace posts, but she'd also like to see more of the kind of fire-you-up-type-of-grace-posts on here. The you've screwed it all up grace is so wonderful and brings freedom, but what about the the grace that inspires and pushes you and speaks life into you.
As she was typing that, I was simultaneously texting the same thoughts in my own language. I was telling her that I've always written to the woman-like-me at the end of the day. I've always written to the discouraged mama or the exhausted gal or the one who just needs a birthday-cake-size-piece of it's going to be ok. And lately, I have felt the currents shifting and I want to write to the gal at the beginning of the day.
I want to write to the lady looking in the mirror as she brushes her teeth and wonders how she'll get it all done. I want to write to the mom who is sipping her coffee, hearing her kids stir, and questioning if she has it in her today. I want to write to the new gal on the block, eager to meet her neighbors and share the love of Christ with them. I want to write to my sweet friends turning on their laptops for the first time, eager to hear good news or be inspired. I want to tell everybody - it's not just gonna be ok, it's gonna be great.
I don't know if your day is going to go perfectly. I don't know if all the good things are going to happen to you or if you'll do everything right. But I do know that you are exactly who the Lord wants you to be. I know the day is FULL of possibility. I know that God wants good for you and the creator of the universe LOVES you and is jealous for your attention and affection. I know you have influence, right where you are. I know that you are more creative, loved, lovely, cherished, and holy than you think you are.
I learned at Making Things Happen a few weeks ago that a list or a physical representation of what fires me up can be incredibly beneficial. I'm a super visual person, and for me, having actual images to look at are a huge part of being hopeful and casting vision over my day. When I start my day thinking on these things, whether they're important or not so important, spiritual or secular, I am way more positive and hopeful about life. So today, I'm sharing the things that fire me up. They are simple, but oh so life giving to me.
They're just the very start of that it's gonna be great feeling, and I am praying they do the same for you.
I'd love to know what it is for you?
What makes you more excited and less frightened?
What helps you at the beginning of the day?