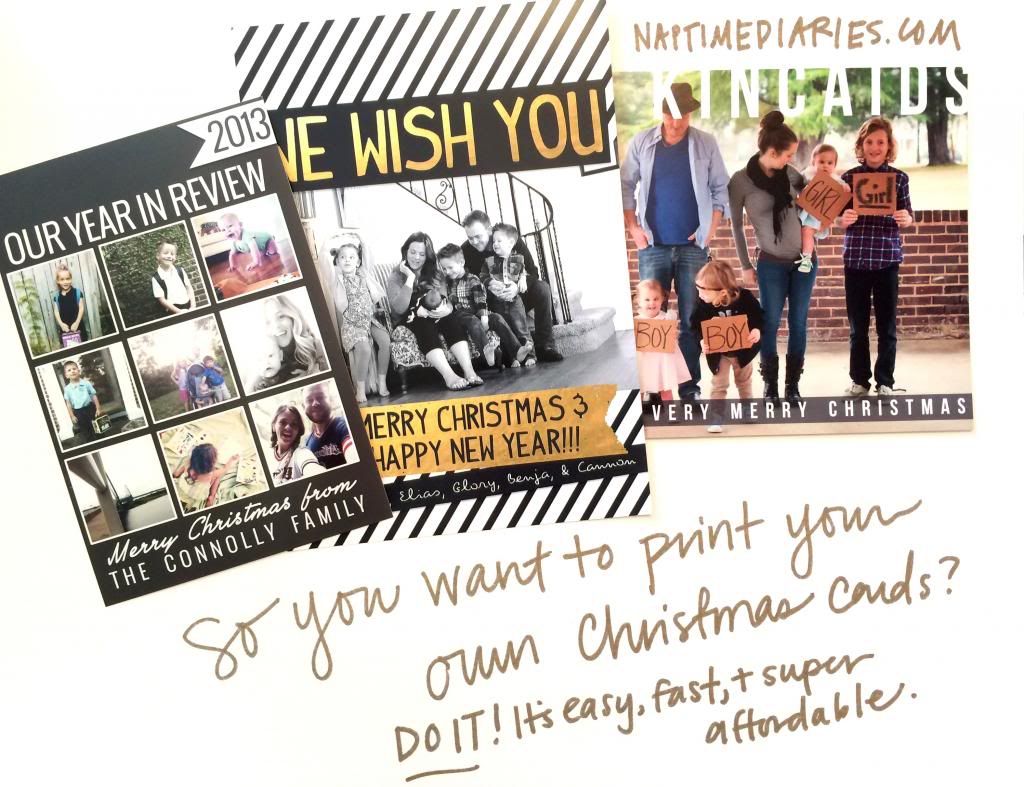 It's that amazing and also slightly stressful-for-families time of the year!
Christmas card season!
I love when we get to the sweet spot in mid-December where there are a few Christmas cards coming each day! When I was little, my mom and I would pour through the mail together and I have so many sweet memories of sitting on the steps and staring at all the cards. Reading every single family update & enjoying the faces of families and friends we hadn't seen for awhile. No wonder designing other people's cards is one of my favorite "jobs" I get to do all year!
Ever since we began designing custom Christmas cards, I get so many questions about where is the best place to have the cards printed and how much of an investment is this little tradition actually going to cost us. I totally get it! I've put together a little post to help you see some of the most cost efficient ways to print your own custom cards!
Jacey, our shop assistant, had samples made from all of the printing resources I list here and those are the photos shown below! We promise we wouldn't suggest somewhere if the quality wasn't great. And if you need a beautiful custom card to print - we obviously known somewhere that has plenty to choose from! We have 15 customizable Christmas card designs in our shop for you to check out! Here are the simple steps to getting your photo cards printed!
1. Order one of our 15 customizable photo cards.
O
ur team will email you within 24 hours to get all your info & photos, then we'll have your high resolution image back to you in 3 business days!
2. Pick a printer. We're sharing details on our three favorites below. Snapfish, Office Depot, & Walmart!
Snapfish is my favorite place to get Christmas cards printed and where I always get our holiday cards done! There are a few different options depending on your budget and card desires! Our 5x7 cards can be printed as normal prints (we suggest matte paper), folded greeting cards, or my personal favorite - postcards! I love sending postcards for a few different reasons: a) no need to buy envelopes b) they'll include your return address on the postcard - one less thing to write! and c) the stamps are cheaper!
Snapfish makes amazing postcards for about a dollar per card. If you watch pretty closely, they're always offering some sort of amazing sale so I usually just get my card ready and then wait till they have 20-30% off! The postcards come quickly and look amazing, so then all I have to do is write in addresses and send!
People rarely know that you can holiday cards printed at Office Depot, but you TOTALLY can and they look awesome! You can have them printed on glossy card stock or matte/glossy photo paper. If I were going to use Office Depot, I'd go with a glossy or high quality card stock so that I could write on the back! Also, they always have an awesome selection of envelopes, so it would be an easy one-stop option!
Prices vary at most Office Depot locations, but you can usually get the cards printed on cardstock beginning around .59 each. The best part is, the Office Depot folks are usually more than wiling to try a few different options and see what you like best!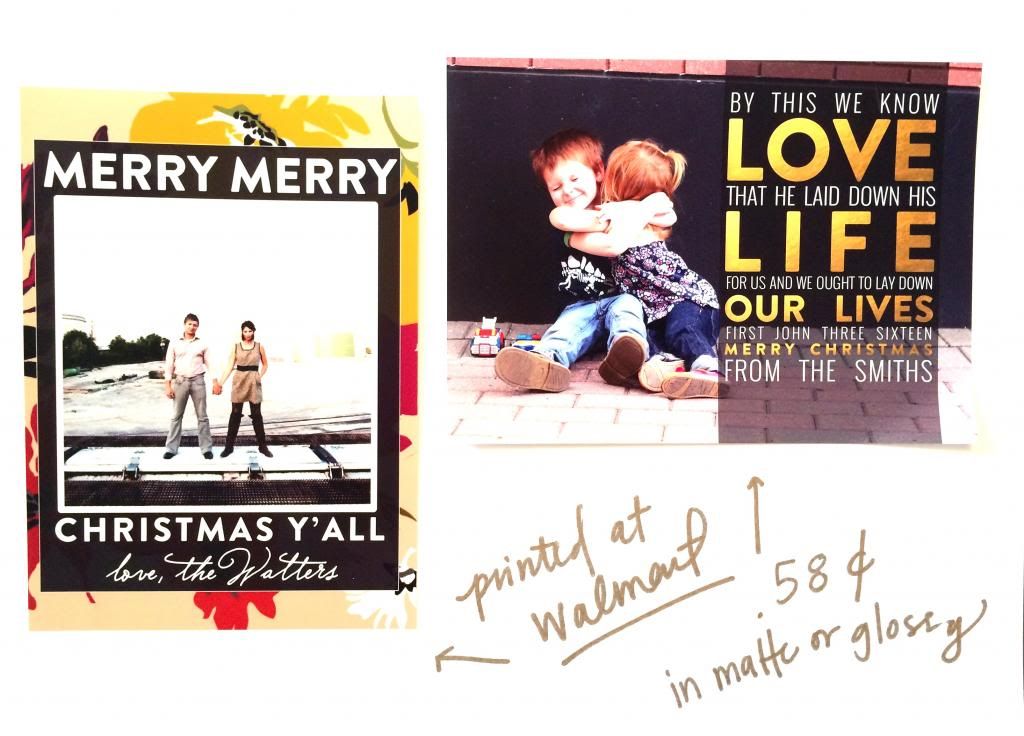 Lastly - good old trusty Walmart is usually a good resource. We printed these by uploading them on to Walmart.com and having them done on matte photo paper. They're the cheapest of all the options and not necessarily the most luxurious quality - but always good in a pinch! These are awesome if you want to include them with a letter or just send your photo + well wishes out to your people!
3. Lastly, wait for your cards to arrive and send those puppies out! Woohoo, you did it! And now you don't have to worry about the dreaded get-dropped-from-peoples-Christmas-card-lists-because-you-didn't-send-them-one issue!
If you're hoping for a Naptime Diaries Christmas card, NOW is the time to order. As the holidays approach and we get busier, our Christmas card prices increase so we highly suggest you buy them this week when they're only $15!